Samsung Galaxy Watch 46mm 2018 Review
by lars on 4/10/2018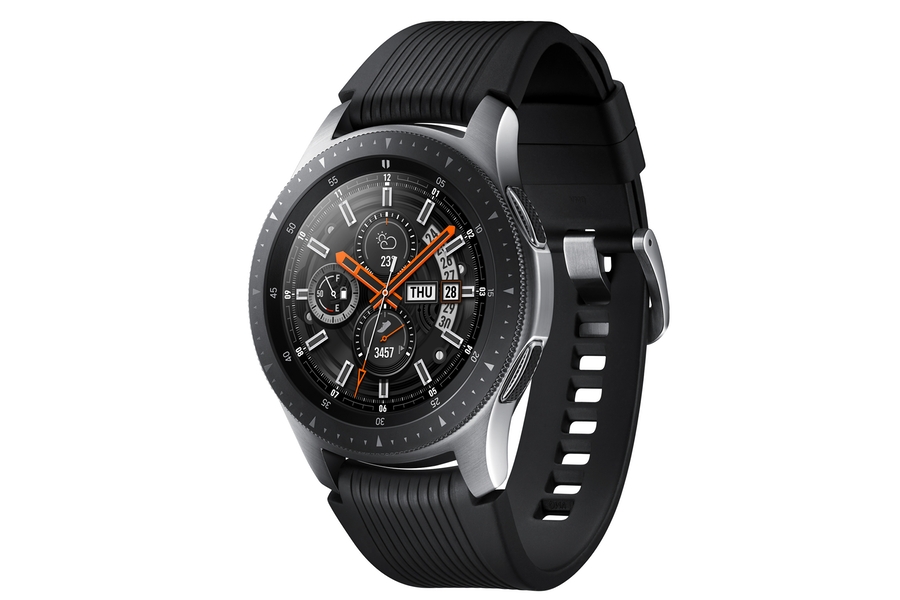 This is my short review on the Samsung Galaxy Watch 46mm.
The watch is very nice looking. A little big, but I like the size. I have big hands and big wrists. The build quality is nice enough. I don't really like the rubber ends on the buttons. It makes the watch look cheaper, somehow. The watch is stainless steel, but has dark dial on top. It took a little getting used to, but I kind of like it.
On my watch, when I lightly tap the black dial, it sounds like the dial is slightly loose – I can hear a metal-to-metal tapping noise when I do that. To me that makes it sound cheap and not very well built. It might be fine, but it's just the impression that it makes.
The most important things a smart watch has to do, in my opinion, is:
Tell the time
Show notifications
Fitness tracking
And in the case of the Galaxy Watch which is an LTE-enabled watch, I should be able to leave my phone at home when I want to, since I can make and take calls from the watch itself.
Now, in Denmark you can't really use eSIM at the moment. Only one company supports the Apple Watch's version of eSIM called Apple Watch Cellular, but they insist that eSIM support is coming very soon (I am glaring at you 3).
Samsung also want you to use Samsung Pay, which I really want to, but they haven't enabled it in Denmark, so they keep asking me if I want to use the Swedish Samsung Pay instead. Uhm, no, I want a Danish version. I have used Garmin Pay on my Garmin Vivoactive 3 for a while now (even though it's only Mastercard – no VISA), and it works beautifully.
Now fitness is one of the most important things that people want out of their smart watch. Tracking steps, workouts, calories etc. I just want to track my runs and my heart rate. And this is where the Galaxy Watch fails miserably. Every time I go for a run, it tracks GPS fine. It starts out tracking my heart rate fine, but after a few minutes it just stops tracking heart rate. Flat line. Nothing. Which is weird because during the day, I have constant heart rate monitoring and it seems to work fine. If you stop your workout and check your heart rate manually, it reads it fine – It just doesn't work for fitness.
GPS and heart rate monitoring is perfect on the Garmin Vivoactive 3 watch.
Now, if heart rate isn't that important to you, let's talk about what we use to track fitness. Samsung uses Samsung Health to track all your fitness. It's not very good. You can't see much detail on anything. There is no website you can use to dig deeper – just the app on your phone.
I use Strava and RunKeeper to keep track of my runs, because my friends use those. In the settings of Samsung Health you can connect to Strava so that it will sync your activities automatically. Brilliant! Except it doesn't work. I connected it to Strava and nothing is being synced. I even disabled it and re-connected it, but nothing. No sync. All your fitness data is only available in Samsung Health. I couldn't even find a button to export to GPX so I could upload it somewhere else.
On the Garmin watch your activities as synced to Strava within minutes without fault. It also gives you the option to export various file formats. You can also use a service like tapiriik to sync Garmin activities without problems (try tapiirik – it's brilliant! and pay the guy!).
To remedy this, I used Endomondo to track my runs on the watch, so now I can sync my activities to other services without issues. Heart rate didn't work with Endomondo either though, in case you were wondering.
Battery life of the watch is very good for a smart watch. Getting a full day is not a problem at all. Even with a 5 km run or two I get 2-3 days out of it. It's probably closer to two days, when you have constant heart rate monitoring enabled. Compared to a Garmin Vivoactive 3 though, it's not very good. Garmin easily gives me a week with constant heart rate monitoring and 3-4 runs without charging.
Sleep tracking seems to work OK on the watch, and it even tracks naps, which the Garmin doesn't do.
The watch runs Tizen, which is Samsung's own operating system for devices. I really like Tizen on my TV, and it works OK on the watch, but there are not a lot of apps for it. One of the biggest cons for me, is that there is no Google Assistant. I use Google Assistant a lot, and while Bixby does a few things, it is absolutely no match for the Assistant. Also I can't talk to Bixby in my native language (Danish) like I can with the Assistant (I can talk to the Assistant in either English or Danish, and it will understand). Bixby is fine for setting a few reminders etc.
One of the apps that work is Spotify. You can control your phone's Spotify, or you can play on your watch, both online and offline. The watch has a little storage, so you can download a playlist to it. You can pair bluetooth headphones to it and listen to music on your watch. Pretty cool. It doesn't support Google Music or others, but you can control those on your phone from your watch.
Oh, for a while I didn't get texts on my watch – all other notifications seemed to work, just not texts. After I factory reset my watch to see if it helped with my heart rate monitoring problems the text notifications started working again. I suspect that Signal, which I use for texts, wasn't allowed to show notifications on the watch.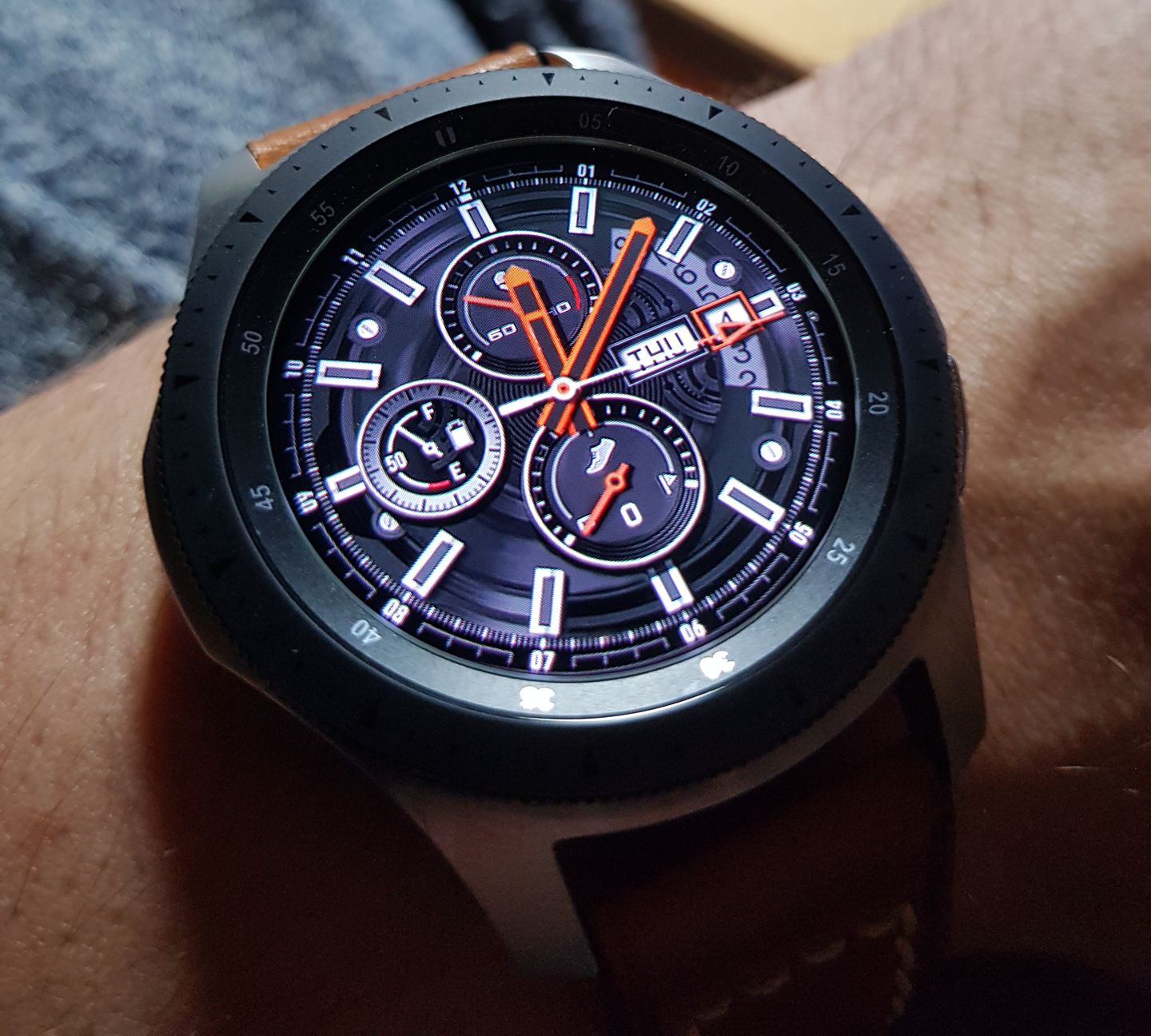 It's hard to tell, but the watch also looks good with a leather strap. Watch face is G-Watch.
Oh, and of course you can switch you watch bands out. Standard 22mm watch bands work. It looks pretty good with a leather strap as well. You almost can't tell from the photo though :P
I tried seeking help for my heart rate monitoring problems in the Samsung Community but in both Firefox and Chrome the page just keeps redirecting and fails in the end. It works if you use a Chrome Incognito window though. Getting support from Samsung is pretty damn hard.
The conclusion? The Galaxy Watch is a nice smart watch. Useless for fitness tracking. I am disappointed, and I am considering returning the watch.
EDIT: Oct. 12th 2018 A Samsung representative has mentioned that a software fix is under way, and that there is a work around for now (that does not work for everyone). Go into the Samsung Health settings and disable automatic detection of the elliptical and rowing machine. I haven't tested this yet.