Review: Vacation apartment in Dubrovnik, Croatia
by lars on 9/07/2015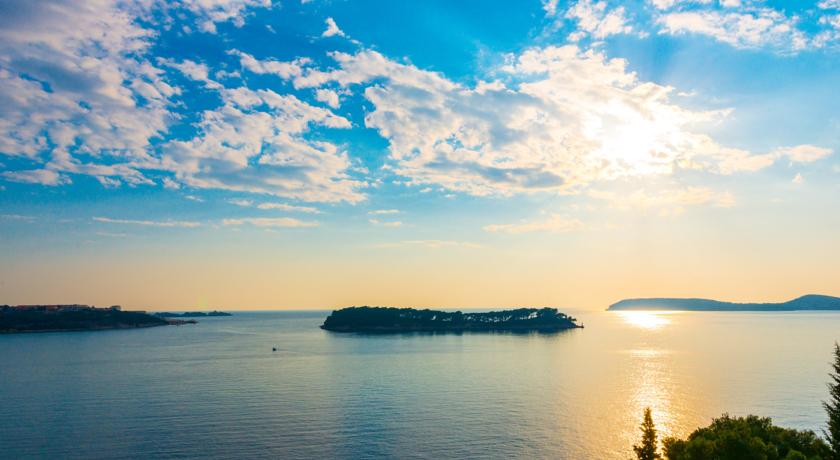 So, we got tired of the weather here in Denmark, and wanted some heat, beach and interesting experiences. We decided to go to Croatia for vacation. We chose the southern part of Croatia, specifically Dubrovnik, which has an interesting coast line and nice places. We looked at a lot of places to stay.
We're a family of 4 – two kids 12 and 14 – it was important that there was lots of space, separate bedrooms and a nice, quiet place to base our adventures from.
We ended up choosing an two bedroom apartment just outside of Dubrovnik, in a town called Lozica. Even though it's a different town, I would class it as being in Dubrovnik. It takes 5-10 minutes to drive to the center, which is perfect.
The place is called SunDeck Comfort Apartment, and the name fits! We could not have chosen a better place to stay. The photo above is the view from the apartment.
The owners live in an apartment downstairs, and the rental is the entire upper floor. It is airy, cozy, quiet, good air conditioning (one unit in the living room and one in each of the bedrooms). The kitchen is full featured. Ceramic hotplates, built in oven, microwave, side-by-side fridge/freezer with ice, nice big bathroom with a small tub (with jets – didn't try them).
Free parking, big flat screen, satellite TV, free WiFi – everything you need is right there.
It has a tiny balcony accessible from inside the apartment, and one big terrace with a shaded table to eat at (sits 6 people), and a gorgeous sun deck with sun chairs.
The sea view is *amazing*!
A five minute walk takes you down the road, through a tunnel and to a nice beach that the locals use. The first two days we were there, we were the only ones on the beach :) Nice clear water, many fish – good snorkeling place.
The owners are extremely nice and want to help you with everything, if you'll let them. They know all the good spots, and which touristy areas to avoid. The husband is the chief engineer on the second largest cruise ship in the world, and speaks very good English. The rental is his wife's project, and it's spotless :)
I can't say enough good things about this place. Best of all, the price was extremely fair! We spent 11 wonderful days in Dubrovnik.
It's also close to the main road, so driving anywhere is very easy! Take the owner's advice on what to see and visit – they know what they're talking about – we had some very nice adventures, based on their advice!
Our kids want to come back to this apartment, and so do we :)